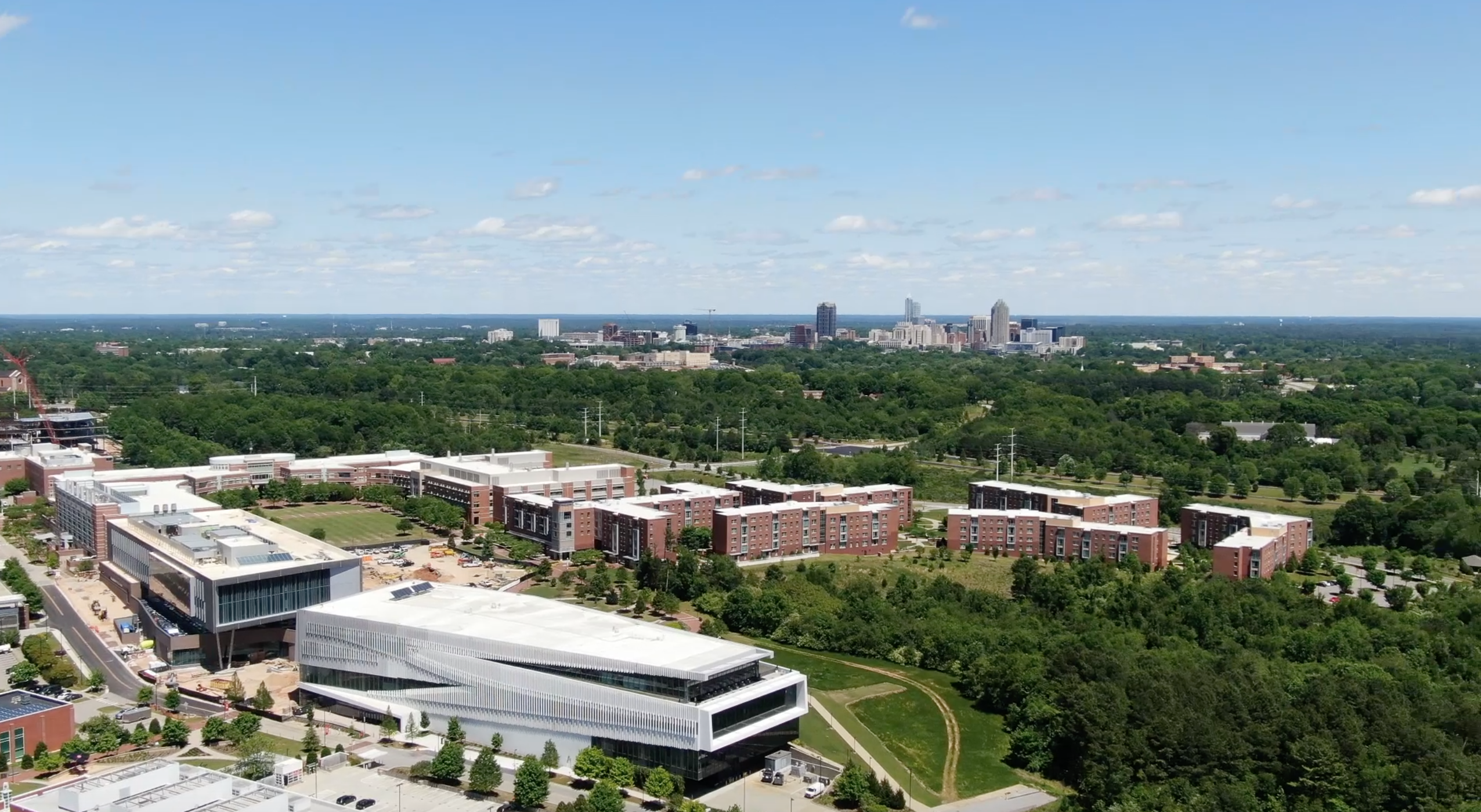 Coronavirus Information for Centennial Campus
NC State, including Centennial Campus, remains open with adjusted on-campus operations during the coronavirus pandemic.
Instruction for the spring semester will be a mix of in-person, hybrid and online classes for undergraduate and graduate students. NC State's research laboratories remain open and fully operational, and research opportunities for students continue.
All members of the Centennial Campus community, as well as any visitors or guests, are expected to follow all local laws and regulations, as they may be updated from time to time, including the Governor's executive order requiring face coverings in public — as well as NC State protocols when in outdoor spaces. These requirements can be found at the NC State Protecting the Pack site.
Information for Centennial Campus partners — or other affected members of the Centennial community — can be found below. For additional information, visit the NC State Protecting the Pack site.
Campus and Business Operations
All Centennial Campus buildings are secured while remaining accessible for select essential operations and personnel. University buildings will remain locked 24 hours a day and will only be accessible via Wolfpack One Card until further notice. Contact your property manager for assistance.
Testing requirements for NC State students, faculty and staff returning to campus in the spring do not impact employees of Centennial Campus partners.
Protocols for Partners located in 1801 Varsity, Alliance Center, Biomedical Partnership Center, Keystone Science Center, and Venture I, II, III, IV and Venture Place:
The owner of your building is responsible for developing best-practice safety protocols for operations within these buildings. Please contact your property manager if you have questions about your buildings' protocols.
NC State faculty, staff and students are expected adhere to the more stringent of the building's rules/regulations and the rules/regulations issued by NC State for its operations.
NC State has developed a set of requirements related to Centennial Campus' outdoor and common spaces which all members of the campus community are expected to follow. The latest guidance provided by NC State can be found at the Protecting the Pack website.
Protocols for Partners located in Partners I, II and III, Poulton Innovation Center and Research I, II, III and IV:
NC State, as the landlord of these buildings, has developed a set of requirements related to building operations, which will be regularly communicated by the property manager of the building through onsite signage and email communications.
The latest guidance provided by NC State for both interior and outdoor spaces is available on the Protecting the Pack website. You may also download signage templates that may be helpful should you adopt these guidelines in your private space.
Campus Amenities
Research Activity
Partnership Development
The Office of Partnerships remains committed to serving the business needs of all Partners. While staff works remotely until further notice, the Partnership Office can be reached at 919.515.7036 or ncstatepartnerships@ncsu.edu.
Real Estate and Development
NC State Real Estate and Development is available to answer questions related to leasing, operations and management of real estate on Centennial Campus. They can be reached at 919.513.7961 or real_estate@ncsu.edu.
COVID-19 Positive Test Reporting
If you test positive for COVID-19, or are told by a healthcare provider that you are presumed positive for the virus, we encourage you to follow these recommendations. Please note that reporting is encouraged but not required.